Join the Compass team!
At Compass, our team is deeply driven by our mission, vision, and values and we seek to offer stability, growth, and community in all we do. Whether we work in direct service or in support of the mission in administration and operations, we're all seeking to better our community. We're looking to welcome people to our team that are passionate, skilled, and enjoy a little light-heartedness in their work environment. We have a 'come as you are' culture and welcome staff of diverse backgrounds and work styles. The work environment is not formal, so we're pretty casual and comfortable but professional in how we dress.
The agency offers an open, supportive, and challenging work environment committed to promoting the dignity and well-being of each person that we serve. We recognize the value that different perspectives and cultures bring to the organization. We consider the diversity of staff, guests, residents, and community partners to be an important asset. All employees are expected to make efforts in their work and in their conduct to advance diversity, equity, and inclusion at every level.
Click on the link below to access all currently open jobs at Compass including job descriptions and applications.
Careers at
Compass Housing Alliance
BENEFITS AT COMPASS
Starting full-time benefits package includes medical/vision/dental insurance (at low or no monthly cost), unlimited Orca transportation card, $500 towards a health Flexible Spending Account, retirement plan, Employee Assistance Program (free mental health counseling), 4 weeks of Paid Time Off (PTO), and 12 paid holidays.
Starting part-time benefits package includes unlimited Orca transportation card, retirement plan, Employee Assistance Program (free mental health counseling), Pro-rated Paid Time Off (PTO), and paid holidays.
Relief Staff benefits package includes unlimited Retirement Plan, Employee Assistance Program (free mental health counseling) & Sick & Safe paid time off.
Property Management Jobs
Compass Housing Alliance partners with the property management company Coast to maintain and support our affordable housing buildings throughout the Puget Sound. The property staff at these locations are employed by Coast, but work at Compass sites alongside our own program/case management staff. Please find an updated list of all Coast's open positions here: www.coastmgt.com/career-search/
Finance & Accounting Jobs
Lutheran Community Services Northwest is in affiliation with Compass Housing Alliance and provides financial and accounting services for the organization. If interested in accounting, billing, payroll, and other financial careers, please find an updated list of LCSNW open positions here: https://lcsnw.org/careers/
APPLICATION INSTRUCTIONS
Returning Applicants
If you are a returning applicant, please be sure to login at the bottom of the job description page and click 'ADD TO MY JOBS' rather than clicking "APPLY FOR THIS POSITION".
Application Issues
We recommend that you use either Google Chrome or Mozilla Firefox for optimal performance with our online application. Also make sure that your browser is fully up to date. If you are having issues with the online application, you can contact Human Resources via email at HRInfo@compasshousingalliance.org or call at 206-474-1100.
EQUAL EMPLOYMENT OPPORTUNITY
Compass Housing Alliance maintains practices and policies that eliminate barriers to equal employment opportunity and strives to ensure that applicants and employees are treated without regard to race, color, religion, creed, sex, sexual orientation, age, national origin, citizenship or immigration status, gender identity, genetic information, honorably discharged veteran or military status, marital status, status as a victim of domestic violence, sexual assault or stalking, political ideology, sensory, physical or mental disability, caste status, the use of a trained service animal by a person with a disability and all other groups protected by law. Compass's policies and practices are intended to promote diversity and equal employment opportunity in all aspects of employment, such as: recruitment, selection, compensation, hours of work, work schedules, benefits, training, retention, promotions, demotions, transfers, advertising, layoff, and termination. All employees of the agency are required to comply with the provisions of these policies. Failure to do so may result in disciplinary action up to and including termination of employment.
In compliance with the ADA Amendment Act, should you have a disability that requires assistance and/or reasonable accommodation with the job application process, please contact the Human Resources department via phone at 206-474-1100 or via e-mail at HRInfo@compasshousingalliance.org.
As a member organization of the Employers of National Service, we welcome the opportunity to employ PeaceCorps, AmeriCorps, and other national service alumni.
Applicants have rights under Federal Employment Laws
Make a real difference at Compass!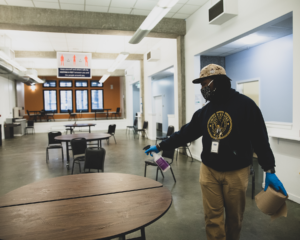 Never worked in Social Services before?
If you have customer service experience and an interest in giving back to the community, check out the Relief Staff application. It is a variable hour, part-time role where you can work at a variety of locations in King County filling in for shifts.
Compass Housing Alliance is a not-for-profit organization and tax-exempt under Section 501(c)(3) of the Internal Revenue Code which may qualify you for the Federal program of Public Service Loan Forgiveness (PSLF). For more information on PSLF, visit www.studentaid.gov/publicservice
Share This Page with Family and Friends